This is what an advanced low cost UAV looks like. Six motors, speed controls built into the motors for
smaller signature. Advanced inertially stabilized camera mount. carbon fiber fuselage plates, Carbon fiber props etc.
FLIR Tau camera ready to roll.
This sits in almost ready to fly state. There is some tiestrapping to do and cleaning up but it could fly in about 10 minutes from
where it sits. I just need a target area.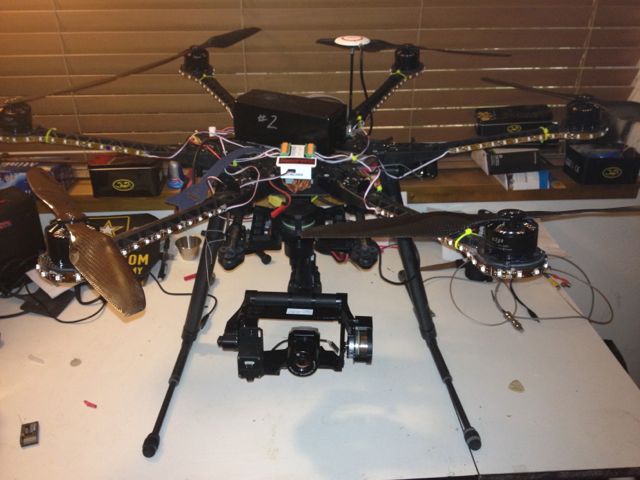 That's one fine looking machine Paul! You need to get someone recording you flying it or vice versa. I'd love to see this baby in action.
Better sign up on YouTube my friend

I am on You tube but I havent published much on the behest of my co owner.
But the way the camera can be flown by a separate camera man OR i Can just put myself in a hover or a circle
and fly the camera my self in Roll pitch and pan independent of the aircraft.
You're on YouTube and never sent me a link? How can I subscribe if I don't know where you are?
It sounds very promising!
I have a couple videos on You tube but only vague experiments and flight tests, not really worth looking at.
But hey if you must just look up my channel at paul guggenbuehl
You're far too modest Paul. I watched a few of your videos and these multicopters are great. The video images are superb! Did you have a different camera on Naza? Was it one of the HD Drift cameras?
I'd love to post one of your vids to my facebook page. Very impressive technology.
I dont remember which one was on the NAZA, The video called STABLE is the video from the one in the pic above.
The STABLE one is the SONY alpha and then there were some Drift and GoPro as well as the FLIR videos.

---
Permissions in this forum:
You
cannot
reply to topics in this forum