Page 2 of 2 •

1, 2

Thanks or uploading the images.

The 'no flash' image still isn't anywhere near as bright as the supplied 'brightened' photo and I can already begin to see the patches of solid pixels beginning to appear.

The lighter version of photo 1 is very interesting. What do you make of the fur characteristics?
I was looking at the picture and I am trying to figure out where the close up was taken.
If you look at the hand position it doesn't match the Center standing Image. I am looking at the log trying to match the Broken branches and its not lining up correctly for me in my head.
Now its obvious that the creature did move. with the hand movement next to the fallen branch.
The Fur/Hair seems off to me. It does seem way to matted.
Now is this heavy fur/hair caused by the winter coat?
The head hair doesn't match at least to me the body fur/hair.
It is very furry to me so its hard to see anyreal body definition.
The image to me almost looks like the Big Foot was stabalizing itself on the fallen log.

It's the mixture of short curly hair and longer fur that seems wrong to me. It reminds me of the way a ghillie suit looks when you add bits of natural foliage or old man's beard.

I was able to get a fairly good overlay of image 1 and 2, but image 2 must have been taken further to the right because of the change in perspective on the log. I'll try and show you what I mean in the morning.
Here's the overlay I mentioned: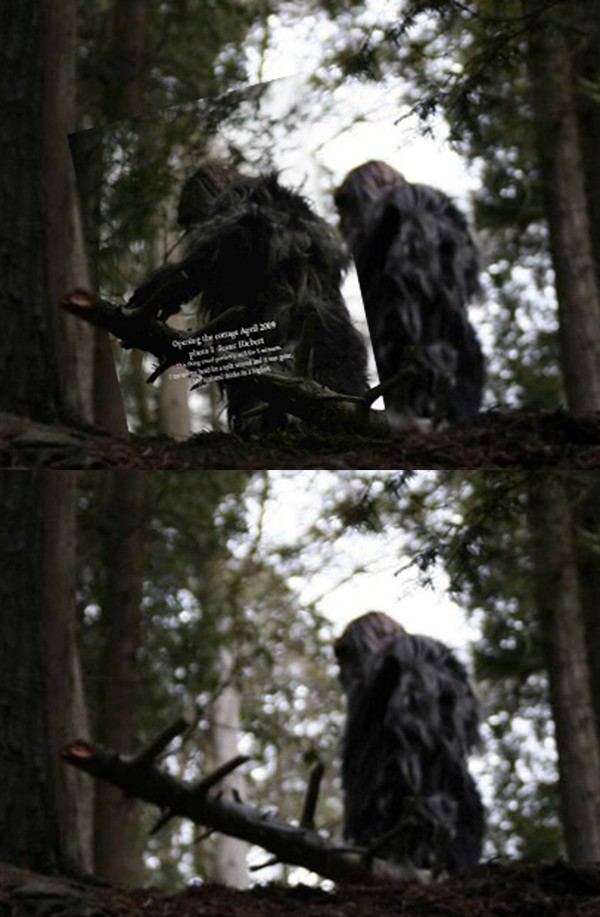 I had to rotate and alter the perspective in order to get the figure and log anywhere near to a match, so the photographers position must have changed considerably.
It's worth noting that the figure must have moved as well as the photographer.........contrary to the backstory.
Yeah, I know......stating the obvious, but inconsistencies like this should be addressed.
Oh I agree.
It does make the story not add up with the Images they took.
To say it stood Still but you can obviously see arm movement from the 2 pictures so it may have been standing still when they were looking at it but when they moved or looked away it moved.


Page 2 of 2 •

1, 2


Similar topics
---
Permissions in this forum:
You
cannot
reply to topics in this forum